Furthur featuring The Grateful Dead's Phil Lesh and Bob Weir with Ratdogs' Jeff Chimenti and Jay Lane, and Dark Star Orchestra Guitarist John Kadlecik along with Joe Russo on drums announced a major twenty-eight show US Winter tour.
Furthur Tour Info Here
After listening to downloads of the three Furthur shows from the Fox Theatre in Oakland, CA on September 18th, 19th, and 20th I'm really excited about the upcoming Furthur Winter Tour! Considering these were the first three shows of this newly formed Grateful Dead-ish configuration I think good things are to come on this Furthur Tour. I also just really love the fact that they brought back the "Furthur" name, initally used for the "Furthur Festivals" over the first two summers following Jerry Garcia's death. The Furthur name references Ken Kesey's bus driven by the
legendary Neil Cassady
, the man Jack Kerouac based his Dean Moriarty character on in
On the Road.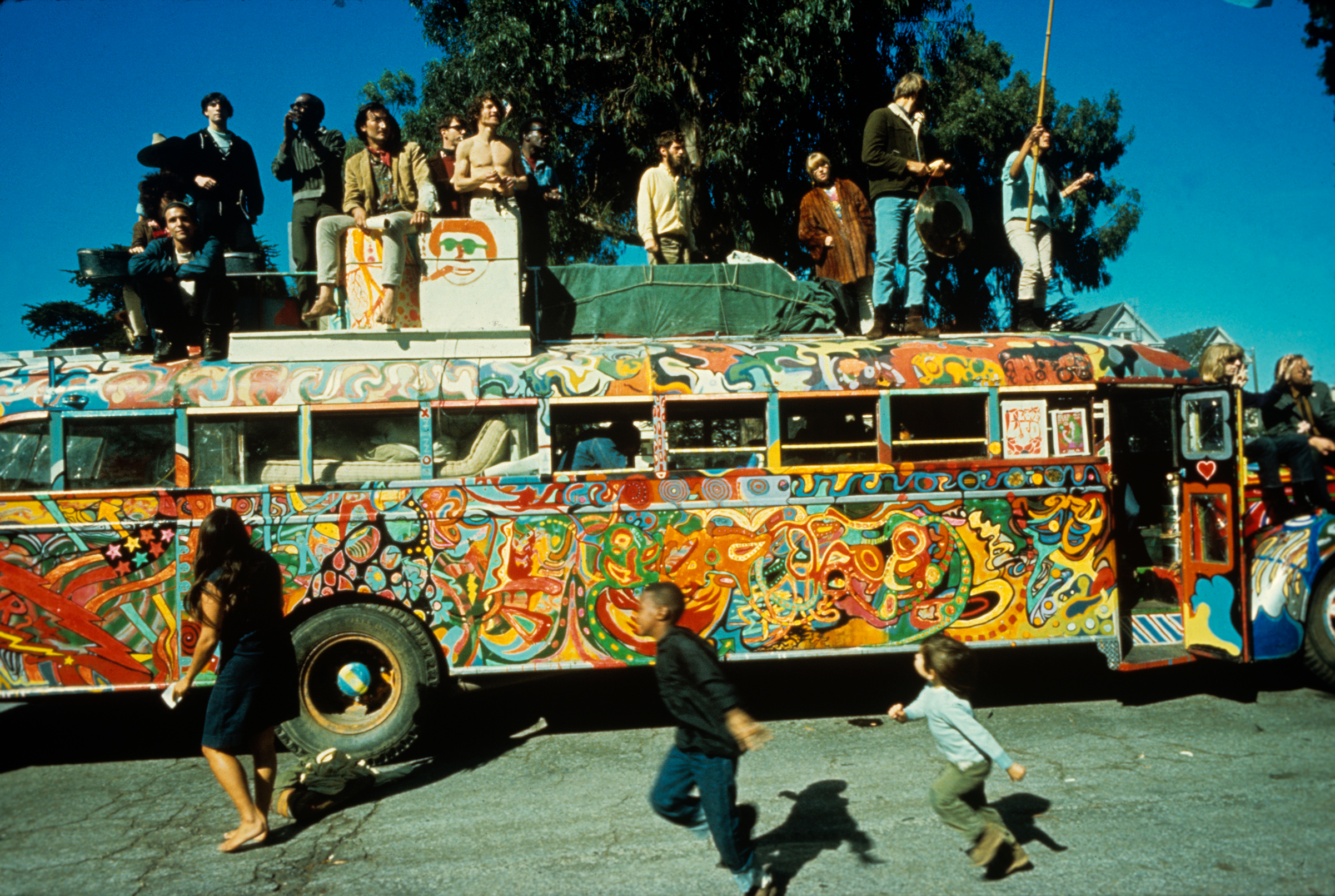 Ken Kesey's Bus Fine Art Print from San Francisco State College on 31 Oct 66: 11x14 C-Print Signed
I guess Bob Weir and Phil Lesh decided to play with a "Jerry impersonator" type. John Kadlecik, of
Dark Star Orchestra
, has made a career as a Garcia tribute guitarist in a Grateful Dead tribute band of sorts. DSO's main theme is to recreate Grateful Dead shows from the past and thus has to be defined as a Grateful Dead copy or tribute band. This said, John Kadlecik sounds very good in this lineup, as well as with DSO. His voice sounds eerily like Jerry's croaky voice at times. Bob Weir was quoted as saying that if you close your eyes and listen to Kadlecik, you might forget that it's not Jerry. I think that's pushing it a bit, but Kadlecik does sound good when they let him sing. They finally got a guy that sounds allot like Jerry vocally, and they don't have him sing all of Jerry's songs. I think it would work well if Bobby sings his songs, Phil sings his songs, and John Kadlecik sings Jerry Garcia's songs. It would sound the most like the Grateful Dead this way and not like Ratdog or The Other Ones or Phil and Friends.
As an interesting side note; Jeff Mattson of the
Zen Tricksters
, one of my favorite local bands, is replacing John Kadlecik in DSO while he's playing with Furthur. I've also heard rumors that Kadlecik has quit DSO and Mattson will replace him permanently. In any case this reunites Mattson with ex Zen Tricksters' keyboardist Rob Baracco of Phil and Friends fame. I happen to think that if you would have just taken Jeff Mattson and plugged him in to the Jerry spot with Weir, Lesh, Hart, and Kreutzman and Baracco on keyboards, you would have something real close to the Grateful Dead. But Bobby and Phil chose Kadlecik instead (years ago Phil said that Jeff Mattson sounded too much like Jerry for him to play in Phil and Friends). Furthur got off to a good start and they'll surely get better the more they play with each other on this tour. Stay tuned for Futhur information.
The bus came by and I got on. That's when it all began
- Grateful Dead

Further - Phil Lesh and Bob Weir Tickets Dec 12 2009 and More